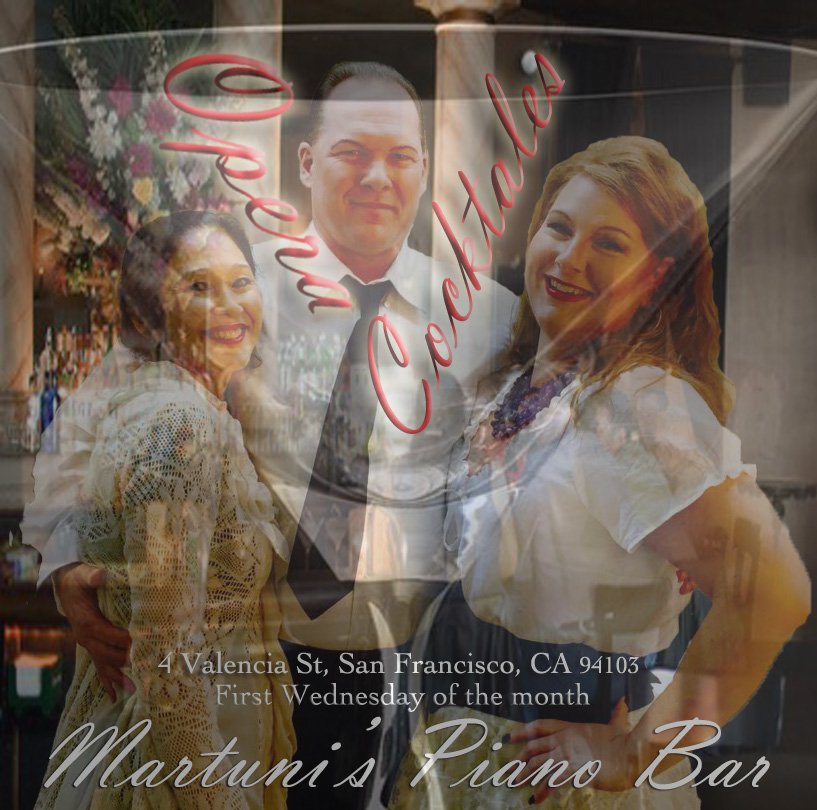 Aria Fireworks at the Bar!

| | |
| --- | --- |
| | July 5, 2017 |
| | 6:30 pm |
| | San Francisco |
| | Martuni's Piano Bar |
| | Google Map |
Happy Summer Opera Cocktales Fans!

We invite you to extend your 4th of July festivities at our Aria Fireworks at the Bar event, on Wednesday, July 5th! Keep cool in the Piano Room with a program of dazzling arias from Bizet to Verdi and everything in between. And, as always, you KNOW you will be well taken care of by the top notch team at Martuni's, who craft the best cocktails in San Francisco!
We have a full roster of singers to delight and entertain you:
Vismaya Lhi, Spinto Soprano
Tristan Robben, Verdi Baritone
Rachel WarnerRachel Warner, Contralto
Special Guests:
J.t. Williams, Baritone
Zoltan DiBartolo, Tenor
Collaborative Pianist:
Thrilled to have Osvaldo De Leon Davila join us again for July!
See you there!
Opera Cocktales
Martuni's: 4 Valencia Street, SF, CA
Wednesday, July 5th, 6:30 to 8:30 PM
Admission: Free (with cocktail purchase!)

Opera Cocktail
Ingredients:
1½ ounces gin (use "London" dry gin; see Notes)
½ ounce Dubonnet (the rouge—red—variety)
¼ ounce maraschino liqueur
a dash of orange bitters (optional, but improves the drink, IMO)
twist of orange or lemon peel as garnish (optional)
Opera Cocktale
Ingredients:
3-5 exceptional opera singers
1 – 4 opera scenes (the flaming hot variety)
1-5 arias of exquisite passion and extraordinary range
dash of acting (optional, but improves the experience, IMO)
twist of plot or unexpected ornamentation or high notes as garnish (optional)