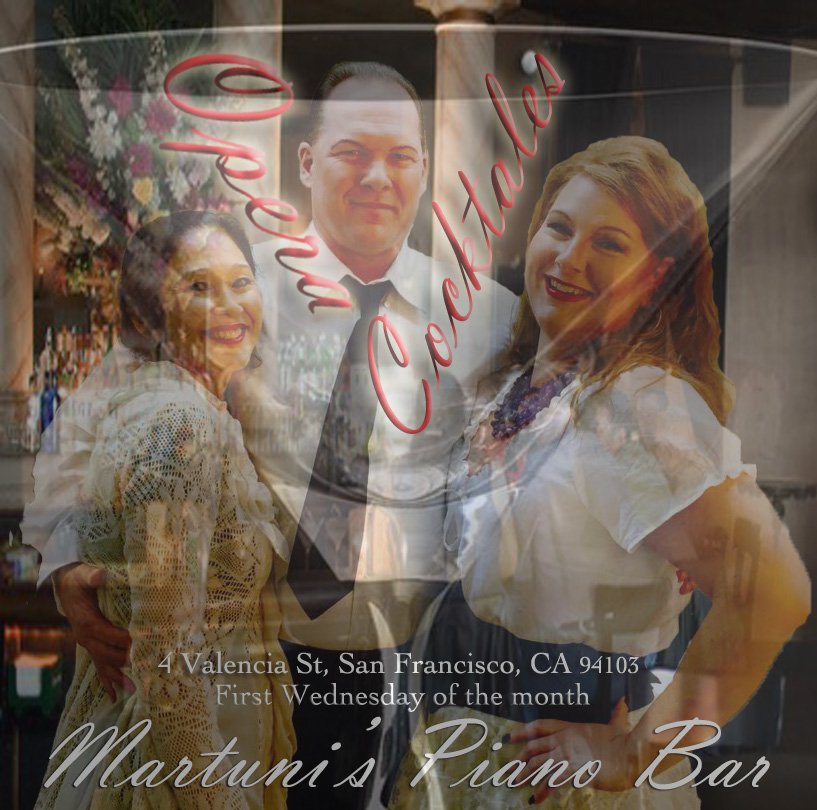 Aria Infusions!

| | |
| --- | --- |
| | October 4, 2017 |
| | 6:30 pm |
| | San Francisco, California |
| | Martuni's Piano Bar |
| | Google Map |
Aria Infusions!
Opera Cocktales celebrates National Vodka Day!!!!
Yes, folks, I'm not making this up! There IS an official day to celebrate that noble and universally beloved beverage known as VODKA!
Why not celebrate this delicious intoxicant with your friends at Opera Cocktales? Revel in the audacious behavior of our favorite Opera Characters as they light up the night through the music of magnificent composers!
Soooo… Come on down to Martuni's (4 Valencia St., San Francisco)
and
indulge in the best martini in town.
(We promise you a passion filled performance worthy of that 2nd specialty martini!)
…sit back and enjoy the company of great composers as we SING for you – what could be better?
October 4th Performers:
Special guest artist:
Melissa Mallory – soprano
and…
Vismaya Lhi – spinto soprano
Tristan Robben – baritone
Rachel Warner – contralto
with the fabulous Osvaldo de Leon at the piano
Verdi, Mascagni and Puccini!
Join us for some opera as you sip on some of the city's best cocktails, served by the awesome Martuni's team!: Free (with cocktail purchase!)