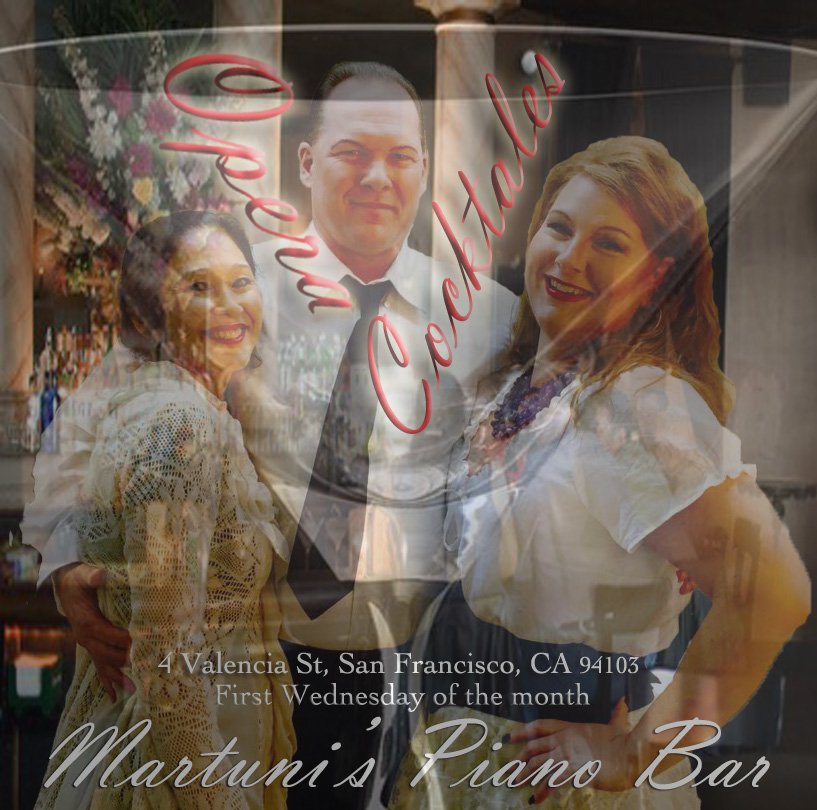 June 7th Opera Cocktales – Notte Voci at the Bar!

| | |
| --- | --- |
| | June 7, 2017 |
| | 6:30 pm |
| | San Francisco |
| | Martuni's Piano Bar |
| | Google Map |
Opera Cocktales and

 
Classical vocal ensemble Notte Voci 
Present  
A concert of Operatic and American Classics in June!
The SF/Bay classical music scene is a small world.  And that is a good thing.  Your Opera Cocktales singers and the Notte Voci singers have known each other and have performed together in many various configurations for years.  And they are happy to regroup yet again for June Opera Cocktales.
Notte Voci recently performed a set of American classics in April and had so much fun that they wanted to present it again.  And Opera Cocktales most graciously extended an invitation do just that!
 Join us Wednesday, June 7th, at Martuni's in San Francisco from 6:30 to 8:30 for some well crafted cocktails, opera (Verdi, Mozart and Bizet) and American Classics (Rodgers and Hammerstein, Gershwin and Sondheim) swirled together for a night of cool Opera Cocktales!
 Notte Voci: 
Kristin Genis-Lund, Coloratura Lyric Soprano
Don Hoffman, Bass Baritone
Rachel Warner, Contralto
Opera Cocktales Artists: 
Vismaya Lhi, Spinto Soprano
Tristan Robben, Verdi Baritone
Collaborative Pianist: Frank Johnson
Admission: Free (with cocktail purchase!)

Opera Cocktail
Ingredients:
1½ ounces gin (use "London" dry gin; see Notes)
½ ounce Dubonnet (the rouge—red—variety)
¼ ounce maraschino liqueur
a dash of orange bitters (optional, but improves the drink, IMO)
twist of orange or lemon peel as garnish (optional)
Opera Cocktale
Ingredients:
3-5 exceptional opera singers
1 – 4 opera scenes (the flaming hot variety)
1-5 arias of exquisite passion and extraordinary range
dash of acting (optional, but improves the experience, IMO)
twist of plot or unexpected ornamentation or high notes as garnish (optional)