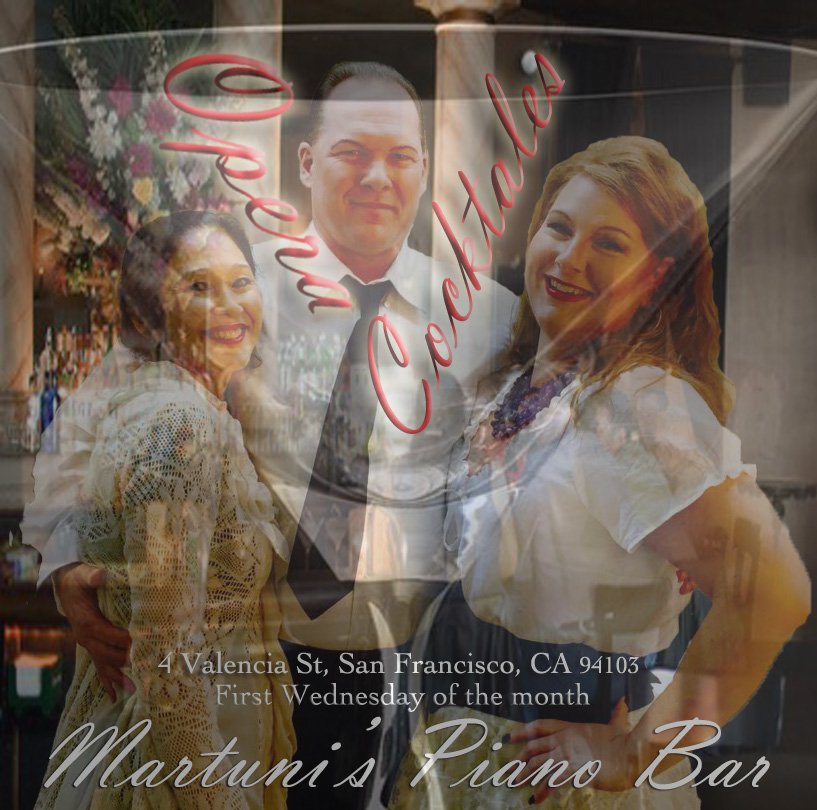 Opera Cocktales – Sing a merry 3rd of May(hem)!

| | |
| --- | --- |
| | May 3, 2017 |
| | 6:30 pm |
| | San Francisco |
| | Martuni's Piano Bar |
| | Google Map |
Opera Cocktales – Sing a merry 3rd of May(hem)!

"The world's favorite season is the spring.
All things seem possible in May."
–  Edwin Way Teale
So why not come on down to Martuni's (4 Valencia St., San Francisco)
and indulge in some Merry Vocal May(hem)!
An after May-day revelry of arias and ensembles with your friends at Opera Cocktales!
Indulge in the best martini in town.(…… in the serene evening light of 'everything seems possible'!)
(We promise you a performance worthy of that 2nd specialty martini)
…sit back and enjoy the company of great composers as we SING for you – what could be better?
May 3rd Performers
Vismaya Lhi – spinto soprano
Tristan Robben – baritone
Rachel Warner – contralto
and special guest:
Maria Caycedo – soprano
with opera conductor and coach extraordinaire Mo. Philip Kuttner at the piano!
in a surprising, richly abundant May-day revelry of famous and not so famous arias and ensembles…..
Admission: Free (with cocktail purchase!)

Opera Cocktail
Ingredients:
1½ ounces gin (use "London" dry gin; see Notes)
½ ounce Dubonnet (the rouge—red—variety)
¼ ounce maraschino liqueur
a dash of orange bitters (optional, but improves the drink, IMO)
twist of orange or lemon peel as garnish (optional)
Opera Cocktale
Ingredients:
3-5 exceptional opera singers
1 – 4 opera scenes (the flaming hot variety)
1-5 arias of exquisite passion and extraordinary range
dash of acting (optional, but improves the experience, IMO)
twist of plot or unexpected ornamentation or high notes as garnish (optional)